25. January 2017
The third and final ring lecture of the winter semester 2016/17 SME took place January 25th 2017. We had the extraordinary pleasure to win Prof. Dr. David Audretsch as keynote speaker for this event.
The first presentation was held by Prof. Dr. Petra Moog, who is holding the chair for family businesses and entrepreneurship at the University of Siegen. Together with Prof. Dr. Friederike Welter, she is also in charge of the SME Graduate School. Prof. Dr. Petra Moog had the challenge, when starting at the University of Siegen to establish one of the first family business orientated chair, here in Germany. Her research focus, at first mainly focusing on human capital in family businesses did expand over time and includes now the field of business succession, financing of family businesses and strategy formulation besides others. Throughout the interactive presentation, the "working definition" of family businesses was discussed and analysed. Prof Dr. Petra Moog closed her presentation with insights to a recent research project about the gender specific performance in companies. A database of Germany, Switzerland and Austria has been used to quantitatively analyse different performance indicators of a company, either led by a male or female successor. As result, no significant differences could be found and it was therefore concluded, that women, like man can lead a company equally successful.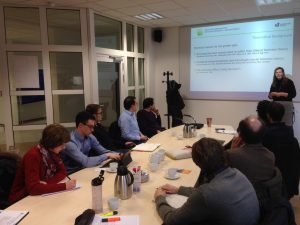 The second presentation was held by keynote speaker Prof. Dr. Audretsch. Prof. Dr. Audretsch is an American Economist currently working at the University of Indiana. Besides this, he also owns his very own consultancy company and is a member to the advisory board of numerous international policy and research institutes. The University of Siegen had the pleasure to receive him here in Germany and the SME Graduate School took this opportunity to speak with one of the distinguished experts in the field of entrepreneurship and family businesses. Prof. Dr. Audretsch started off, by presenting his ideas about entrepreneurship and family businesses. Entrepreneurship as a research field has become one of the most important fields, explaining economic growths potential in countries all over the world. He used 3 dimensions to explain, what might be part of entrepreneurship and what not. First he mentioned the organizational context which is influential, whether a company is entrepreneurial or not. This dimension includes key figures like age and size of the company. Second, the behaviour of the person and or company was named. The very important questions raised in this dimensions include the recognition-, creation-, and exploitation of opportunities. Third, entrepreneurship does have something to do with performance. This does not necessarily need to be measured monetarily, but could as well be innovation, growths or social goals. Already throughout the presentation a lot of questions were raised and discussed. In the following discussion, questions like: How to measure entrepreneurship? Which empirical method is best to use in entrepreneurial research and how can we compare the German "Mittelstand" to the Silicon Valley in the United States? have been addressed and critically challenged.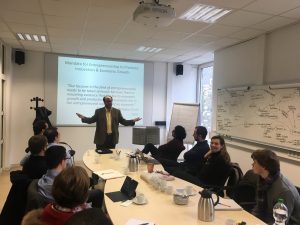 We from the SME Graduate School want to thank Prof. Dr. Audretsch hereby, for not only giving us new and valuable insights about the field of entrepreneurship and family businesses, but also showing us what it could be like, pursuing a career in the academic field. The unique personal experiences and examples used in the presentation and discussion made it a truly special event for all of us.
After a short break, Dr. Christian Soost presented a collaborative paper, dealing with "The Effect of International Assignments on Entrepreneurial Intentions among employees". As the majority of entrepreneurs do statistically have a longer employment period in advance, the results of this question do hold valuable information for the industry. Three driving forces of entrepreneurial intention could be identified and linked to international assignments within companies. The empirical evaluation proved to be significant which implicates an effect between the international assignments and entrepreneurial intentions.
Last, Dr. Sohaib S. Hassan presented a first draft of his research about "Gender and Firm Performance: A comparative analysis." This collaborative project deals with the fact, that mainly males do start new companies. Goal of the project is to investigate if and why women do underperform in firm performance and thus might not be the first choice in receiving money from venture capitalists, leading to the mentioned gap in company start-ups. Because this effect differs from country to country, an international approach of comparing different countries against each other will be executed.
Due to the visit of Prof. Dr. Audretsch, the last ring lecture of the winter semester 2016/17 was not only a success but a highlight, attended also by students and Ph.D. students outside the Graduate School. We are looking forward to continue these interesting and informative meetings within the next semester. Again, a big thank you to all the professors, post-docs and coordinators for making this truly unique experience possible.